What to Look for in a Pre-owned Toyota 4Runner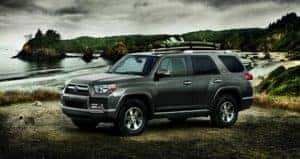 When it's time to find a pre-owned Toyota 4Runner, let Woodhouse be the dealership that helps you get started. We don't just carry a wide inventory of new and pre-owned vehicles. We also want to provide the resources and information you need to feel confident and comfortable when it comes to picking out your next ride.
What to Look In a Pre-Owned Toyota 4Runner
There are many benefits to purchasing a pre-owned vehicle, but you want to make sure that you have the right pre-owned vehicle to fit your driving needs. Here are a few things to consider when purchasing a pre-owned Toyota 4Runner:
Accident History: An accident isn't necessarily a dealbreaker, but you'll want to know about any history of accidents before you buy so you can get your vehicle the service it needs.
Service History: A vehicle with a comprehensive service history can help you retain your value when you sell it down the line.
Stopping, Steering, and Starting: You want to check the responsiveness and capability of your vehicle. Look at how it starts, how it brakes, and how it responds to turning and steering on the road.
Exterior Condition: The Toyota 4-Runner is known for its adventuring capabilities and features. Be sure to check the undercarriage to give yourself an idea of how it was used.
Tire Condition: A vehicle's tires can provide valuable information about the condition of the alignment, suspension, and even the brakes. Look for uneven signs of wear or low tread that might indicate a more serious repair need.
Here at the Woodhouse Auto Family, we carry a wide inventory of pre-owned vehicles, including pre-owned Toyota 4-Runners. We also provide individual financing information, reliable service support, and more. Schedule your next test drive in a pre-owned Toyota 4-Runner today.