The Auto Build and Price Programs at Woodhouse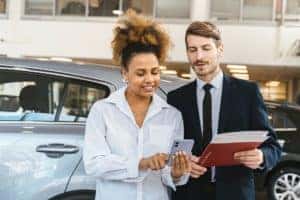 What makes the auto build and price programs a great way to purchase your next vehicle? Here at Woodhouse, we're dedicated to putting the power back into the hands of drivers, and an auto build and price program does just that.
What is an Auto Build and Price Program?
An auto build and price program makes it easy to customize your new car from the very start. It also allows you to compare car financing options as you go, so you can decide between terms, down payments, and more.
Here are a few of the ways you'll be able to customize your vehicle with the auto build and price program here at Woodhouse:
Exterior: You can upgrade and change your vehicle's exterior options, from the colors to the lighting choices, to accessories, and more. Design a car that really feels like your own and mix and match great looks with interior color and design options.
Interior: In addition to color and material choices, you'll also be able to customize your vehicle's entertainment systems, comfort options, convenience features, and a whole lot more. Build a vehicle perfect for all your driving needs.
Accessories: Add a little extra to your ride when you check out the available accessories and packages and pick out your favorites. This is a great way to create a car for whatever your driving style might be.
Once you've completed the customization process, you'll then be brought to the summary page, where you can look over your choices and edit as needed. Save your vehicle for more designing later or submit your car to get a quote from Woodhouse right away.
Why Build and Price with Woodhouse?
There are many reasons to make Woodhouse the dealership where you build and price your next vehicle. Not only do we carry a wide inventory of cars, trucks, and SUVs, both new and pre-owned, but we also provide financing tools and resources to help you on every step of the new car purchasing process.
Check out an easy online finance application, payment calculator, and vehicle trade-in value estimator, and don't forget to take a look at our rolling specials and deals on cars, parts, and car services.
It's all right here at Woodhouse. Begin building and pricing your perfect vehicle with the support of the Woodhouse team today.