Test-Drive a RAM Cargo Van at Woodhouse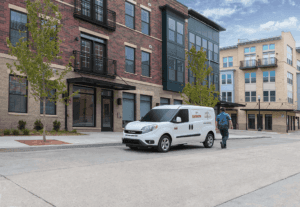 When you're ready to find the perfect RAM cargo van for your business, Woodhouse is here to help. We're dedicated to putting drivers behind the wheel of the perfect vehicle, from trucks to family SUVs to commuter sedans, and all at the right price to fit their budget.
It's easy to begin the used van purchasing process right here at our dealership.
What Should I Look for in a Pre-Owned Cargo Van?
There are many benefits to purchasing a pre-owned cargo van, like big savings, a lower rate of depreciation, and access to reviews and ratings from real drivers.
Here are a few things you'll want to consider, so you always know you're buying the best pre-owned cargo van for your needs.
Rust: Cargo vans are working vehicles, and you want to make sure that you can rely on your cargo van for a long time to come. Rust is difficult and expensive to repair, so if you notice signs of rust or corrosion, move on to the next van.
Braking: Cargo vans are meant to carry, which means the brakes need to be as responsive and capable as possible. If you notice that the vehicle has a long stopping distance or the brake doesn't feel firm below your feet, consider how the vehicle might respond with a full load of cargo.
Suspension: You want to make sure that your cargo arrives in great condition every time. That's why it's important to check out the vehicle's suspension and ensure that the ride is smooth.
Tires: The tires can tell you a lot about how the van was driven and serviced by the previous owners and what potential problems to watch out for, so it's always a good idea to check the vehicle's tires before you buy.
All that said, the Woodhouse team inspects and refurbishes every model before they ever hit our lots, so we don't expect much of this to be a problem. For more information on purchasing pre-owned cargo vans and to find the best RAM cargo van for your driving needs, schedule a test drive at Woodhouse today.