Signs It's Time for a Woodhouse Oil Change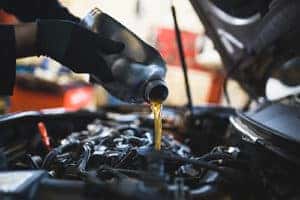 There are many reasons to schedule a Woodhouse oil change, but how do you know when it's time for Woodhouse service? Here at our dealership, we make it easy to get the service and care you need, and can teach you to recognize the signs that it's time for oil change service, so you can take proper care of your vehicle between appointments.
Signs Your Vehicle Needs an Oil Change
Scheduling a routine oil change might feel like just another thing to remember, but the truth is that there are many benefits to getting a routine oil change service. Here's a look at some of the signs that it's time for a new car oil change:
Your Check Engine Light Comes On: There are many reasons your vehicle's check engine light might be on but needing an oil change is one of the most common.
Your Vehicle's Mileage Drops: We rely on fresh, clean oil to keep our vehicles running efficiently. If you notice your vehicle's mileage has gone down considerably, that's a very good sign you need an oil change.
Your Vehicle Vibrates at Idle: If your vehicle shakes or vibrates, especially when you are idling, there's a good chance that your oil levels are low, and you need a refill.
Your Car is Producing Heavy Exhaust: Pungent, dark, or excess exhaust is usually a good indication that the oil in your vehicle is dirty and needs to be replaced.
You deserve an oil change service that you can trust. Turn to the team at Woodhouse to schedule an oil change and other routine car care services and keep your vehicle running smoothly and safely for years to come.