Put Heavy Duty Trucks to the Test at Woodhouse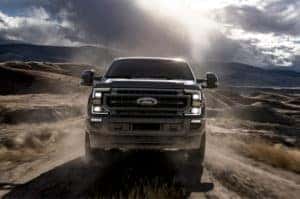 There are many reasons to consider purchasing a used heavy-duty truck like the Ford F-250 Super Duty. When you come down to Woodhouse, you'll be able to test out powerful and capable heavy-duty trucks. Tow stronger, build bigger, and adventure further with exciting pre-owned trucks from Woodhouse today.
What to Consider Before You Purchase a Pre-Owned Heavy-Duty Truck
You might be wondering if a pre-owned truck is right for you, but the truth is that there are many benefits to purchasing a pre-owned truck. You'll save money on the down payment and monthly payments, as well as the in-between costs.
You'll also have a lower rate of depreciation, which means you'll see more value returned if you plan to sell down the line. And finding the right pre-owned truck is easy, with the reviews and ratings from real drivers.
Here are a few of the things you'll want to look for when purchasing a pre-owned heavy-duty truck:
Exterior Condition: Heavy-duty trucks are used for heavy-duty work. You want to look for signs of obvious damage or wear that may be difficult or expensive to repair. Not all damage is a deal-breaker, but it's a good idea to factor repair costs into your budget.
Tires: Tires can tell you a lot about the way a vehicle was driven. Look at the type of wear on used heavy-duty trucks to see how well the vehicle was cared for. Uneven tire wear can also indicate an alignment issue that might need to be addressed.
Equipment: Pre-owned heavy-duty trucks like the Ford F-250 Super Duty can be designed for a wide variety of tasks. Ask about its towing features or off-roading capabilities if you have a specific task in mind.
Choose your perfect pre-owned pickup here at Woodhouse. Schedule your next heavy duty truck test drive today.