Purchase a Pre-Owned Minivan at Woodhouse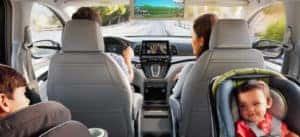 When you're ready to find the perfect used minivan for your family, make Woodhouse your first stop. Purchasing pre-owned is a great way to save big on the cars you love and to take that next great ride home today. That's why we carry a large collection of pre-owned vehicles, and why we're sharing what you need to know about purchasing pre-owned.
What Should I Look for in a Pre-Owned Minivan?
There are many benefits to purchasing a pre-owned vehicle, but you want to make sure it's the right pre-owned vehicle for you. Here are a few things you'll want to consider when inspecting and test-driving a pre-owned car.
Check the Exterior: You want to be aware of any damage or wear that the vehicle might have before you buy. While not all damage is an automatic deal breaker, you want to make sure you know what you're getting.
Look at the Tires: Your tires can tell you a lot about how the vehicle was driven and treated. Inspect the tires for signs of uneven wear or damage to gain insight into the condition of the vehicle.
Inspect the Interior: You want a vehicle that has seating and cargo space for the whole family, so check the interior to see what pre-owned minivan is right for your needs.
Take a Seat: Once you're in the driver's seat, check to make sure it's comfortable. Do you have good visibility, easy access to the backseat, and important programs within reach? Don't forget to test out the tech features to make sure they work right!
Go for a Drive: Put the pre-owned minivan to the test and take it out on the road. Check how it turns over, how it brakes, and how responsive the steering is before you buy.
You'll find the perfect pre-owned minivan for your family here at Woodhouse. Take your first test drive today.