Is a Pre-Owned Mazda CX-5 Reliable?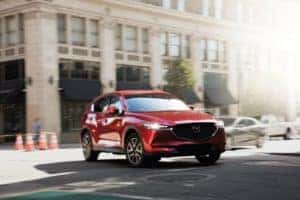 There are plenty of good reasons to buy a used car at a Woodhouse dealership, but we know that some drivers worry about reliability. If you're buying a certain Mazda SUV, you may be reading as many Mazda CX-5 reviews as you can to see if this vehicle will be a good buy. We have many reasons to think that Mazda CX-5 models are a great choice for any used car shopper.
Modern Vehicles are Built to Last
First of all, modern vehicles are built to last a long time. 100,000 miles used to be a big deal, but a newer car can go far beyond that benchmark.
Even if the Mazda CX-5 model you find on our lot is approaching six figures on the odometer, it's likely to have a long life ahead of it.
The Mazda CX-5 Has a High-Reliability Score
The Mazda CX-5 generally scores well when it's evaluated for reliability. The most recent model has a score of 81 out of 100 on J.D. Power's scale. That's considered a "great" score, which means that this particular model is more reliable than most.
It's a vehicle that's built well and one that should last a long time if properly cared for. The mechanics at our service center can help with that.
Your Used Mazda CX-5 is Safe Too
Another great thing about a pre-owned Mazda CX-5 is that it's likely to be a safe vehicle choice as well. The Mazda CX-5 is relatively new, as it's been around for fewer than ten model years.
That means that the safety technology in your used crossover should be pretty up-to-date, and these driver assistance features could help you drive safer on the road.
If you have any more questions about our pre-owned vehicle selection, visit our Mazda dealers near Omaha. We'll help you find a car, truck, or SUV that you can depend on.