Difference Between the Drivetrain and the Powertrain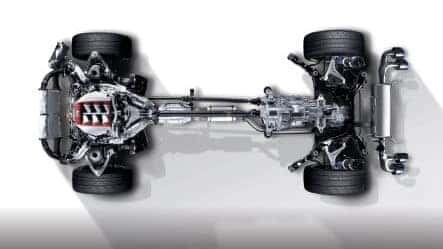 Our Woodhouse parts are designed for longevity, safety, and reliability. When you order auto parts from Woodhouse, you'll have access to high-quality parts, and the service and information that will help you to keep them running right for long time to come. Learn about essential systems like the powertrain and drivetrain at our dealership today. 
Powertrain and Drivetrain Explained 
The more you know about your car parts, the easier it will be to care for your new vehicle and keep it as safe and reliable as the day you first took it home. Here's a closer look at some of the most important systems in your vehicle, the drivetrain and the powertrain. 
Drivetrain at a Glance
The drivetrain system is made up of a series of parts, including the transmission, driveshaft, differential, CV joints, axels, and wheels. These parts work together to move the power produced by your engine to the wheels. When the drivetrain system in our Woodhouse vehicles is functioning properly, the energy from the engine will be evenly distributed to the wheels, which will then move your vehicle forward. 
There are a few factors that can affect how your drivetrain functions, like whether the vehicle is a front, rear, or all-wheel drive vehicle. The transmission also moves between gears to properly distribute power as the speed of the engine increases, so gear can affect drivetrain behaviors, as well. 
Powertrain Details
Now that you have a sense of how the drivetrain in your new or pre-owned vehicle functions, the powertrain will be easy. The powertrain consists of the drivetrain, as well as the engine. Where the drivetrain stops right before the engine, the powertrain system contains both pieces, for a more comprehensive look at the many different parts and systems that make your vehicle go.
The behaviors of the engine, like the RPM, affect the rest of the powertrain system, as well as the drivetrain, to ensure the power is properly distributed for smooth forward motion. 
If you're interested in learning more about the vehicles you love or taking the first test drive in a new or pre-owned car, truck, or SUV, Woodhouse has you covered. Schedule test drives and auto service right here at our dealership today.