Drive Electric With The 2022 Chevy Bolt EV
The 2022 Chevy Bolt EV is redesigned and will go above and beyond your standards! Starting at $31,995 this brand-new vehicle is made affordable for anyone who is wanting to get an electric vehicle! The Bolt EV also offers a lot of room and space for you and your passengers! This EV seats 5 passengers and allows 3 feet of leg room in the rear seats! The Bolt EV also has smart storage that provides under console storage area!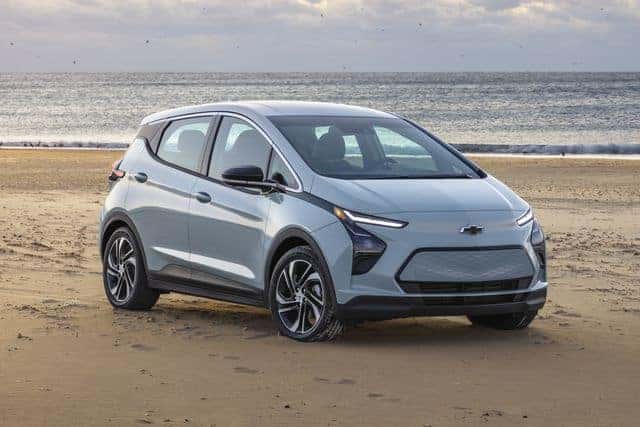 The technology introduced to the 2022 Chevy Bolt EV makes driving electric more convenient. The myChevrolet Mobile App gives access to the battery level of your vehicle and can calculate the battery usage before-hand by looking at your driving route and driving conditions that your vehicle will undergo. On top of this, the Bolt EV will also navigate you to a charging station when needed and will tell you exactly when you need to stop and how long you will need to let your Bolt EV charge for! This makes driving electric more convenient and will bring your mind at ease so you will not worry about your battery running low! 
The 2022 Bolt EV also comes with the standard Chevy Safety Assist to help you operate your vehicle safely and effectively! Along with this, the Bolt EV maximized efficiency with one pedal driving! The regenerative braking will slow your vehicle down when taking your foot off the pedal! The pedal is used to speed up and slow down your EV in replacement to your typical brake pedal! For more information on the Chevy Bolt EV, visit our Woodhouse Chevy Buick dealership in Missouri Valley!